Car driver killed in Runcorn Bridge crash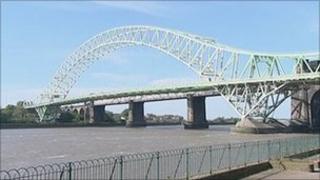 A motorist has died after the car he was driving collided with a tanker on the Runcorn Bridge in Cheshire.
Police were called to the crash, involving a blue Ford Focus and an HGV tanker, at 0615 BST.
The bridge was closed while it was assessed for damage and an investigation was carried out but it has since reopened.
Anyone who was travelling near the bridge and saw the vehicles involved has been urged to contact police.