Oxton's 'secret' gardens opened for charity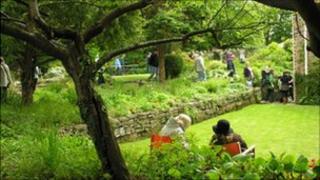 Secret gardens in a Wirral conservation area are opening to the public to raise money for local charities.
Twenty-six private gardens in Oxton will be open for viewing on 8 May between 1000-1700 BST.
The event, now in its 11th year, will showcase a variety of garden designs and also features live entertainment, art work and open-air poetry.
The day is organised by The Oxton Society and all profits from the event go to local charities.
The Oxton Society's Ann Fordman said, "The Secret Gardens are set in the heart of the charming village of Oxton.
"Walking around the village, tucked behind sandstone walls, many of the 26 gardens can be found.
"Visitors will be delighted by the sheer variety of the gardens and their springtime array of plants and flowers."
In 2010, the event raised more than £20,000 for charity and attracted more than 5,000 visitors.
Funds will be raised this year, for The Shaftesbury Youth Club, Wirral Fund for Children with Special Needs and Helplink Community Support.