Liverpool man heads Monet garden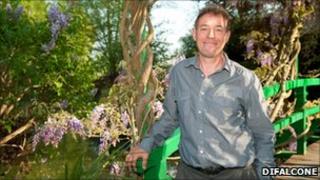 A Liverpool man has become Head Gardener at the home of French artist Claude Monet.
James Priest, 53, from Maghull, will take charge of the site in Normandy, France, where the Impressionist painted his famous water lilies.
Mr Priest, who qualified at Royal Botanical Kew Gardens, has worked at the Giverny gardens for 17 years, adding it was "an enormous honour".
Monet himself designed and managed the gardens until his death in 1926.
Mr Priest said: "I find it a great pleasure to export the British know-how."
Mr Priest moved to France in the 1980s after being approached by French banker, Baron Elie de Rothschild.
He has worked in private gardens in France for the last 25 years.
Speaking English, but now with a distinct French accent, Mr Priest explained: "The French are not as crazy as the British when it comes to gardens.
"In Britain everybody has a beautiful back garden and front garden and it's a competition between neighbours.
"In France there is a lot of enthusiasm in magazines and books but it's not national hobby. Cooking and drinking wine are still national hobbies here."
The garden features the famous hump-backed Japanese bridge and lily pond, a scene which Mr Priest says Monet created with his paintings in mind.
"Claude Monet made the garden originally to paint flowers on a rainy day when he couldn't get out into the countryside.
"The garden was made so that he could paint his canvases. The water lillies are obviously the most important part but that is only half the garden.
"The other half is more formal with roses, irises and lots of annuals.
"Little by little it became an obsession for him and he said 'the only things I know about in life are gardening and painiting'.
"When he created this garden he waited 12 years before he started painting it."
Mr Priest takes over from Gilbert Vahe who worked as Head Gardener at Giverny for 35 years and was behind the restoration of the garden.
After the death of Monet in 1926 the garden lay untouched for 50 years before Vahe restored the site in 1976. The garden was opened to the public in 1980.