Merseyside Police Matrix officer sacked for misconduct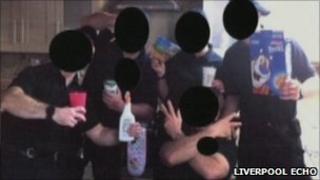 A Merseyside Police sergeant from an elite unit whose members were pictured in a suspect's home has been sacked.
Sgt Charles Tennant, 43, part of the Matrix Unit, appeared before a disciplinary panel on Friday and was sacked for gross misconduct.
It follows the emergence of a mobile phone photo showing officers posing with items during a search of a house.
The force is also investigating claims three officers put items seized during a raid up for sale on eBay.
In a statement, the force said Mr Tennant had been sacked following a fast-track disciplinary process.
"Merseyside Police is absolutely committed to the highest integrity and professional standards of its officers at all times," said a spokesman.
"As investigations are ongoing into misconduct allegations against other officers, it would be inappropriate to comment any further at this time."
Officers' suspended
The Matrix unit leads the force's fight against drug-related gun and gang crime on Merseyside.
A sergeant and two Pcs were arrested for misconduct in March over the eBay allegations.
Three other Pcs were suspended and interviewed under caution in April.
It is understood the photograph, taken on a mobile phone, was uncovered during investigations into the first matter.
Two senior Matrix officers were also suspended from duty in connection with "wider managerial and conduct issues", the force said.