Liverpool Oxfam shop Chinese robe sells for £6,250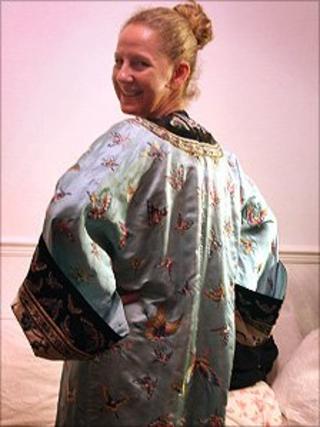 A Chinese robe that was minutes away from being cut up was sold for £6,250 at auction in London.
The 19th Century jade satin robe was bought for £20 in a Liverpool Oxfam shop by Louise O'Brien, who wanted to use the material for a dress.
She took it to a dressmakers who were preparing to make it into a dress when a passing local antique dealer recognised it as a Qing dynasty robe.
"I'm very happy, wouldn't you be for a £20 outlay?" said Ms O'Brien.
Trevor Doswell, a Chinese antique specialist whose shop is a few doors away from the dressemakers, saw the robe, which dates from 1850, through the shop's window.
Mr Doswell, who owns 69a Antique Dealers in Renshaw Street, insisted the robe should be valued.
"I literally did a double take when saw it because there was a 19th Century Chinese silk gown which was going to be cut up," said Mr Doswell.
'So detailed'
Ms O'Brien said: "It was actually out on the cutting table to cut it up and that's when Trevor stepped in.
"The girls at the shop told me he had seen similar robes sell for hundreds of pounds.
"He showed me examples of the embroidery and explained that the butterflies were all hand sewn, which is amazing because they are so detailed."
Ms O'Brien contacted Christies Auction House in London, who confirmed the robe was authentic.
"The robe would have been made for a very wealthy lady," said Pat Frost, head of fashion and textiles at Christies.
"It would have been worn on weddings and occasions at home.
"It is called informal but that means its just not at Imperial Court. It would have been for a smart occassion.
"The butterflies are very pertinent to women because it is a symbol of birth and the fact you grow to be a beautiful butterfly.
"This particular quality is quite rare. It is beautifully embroidered and it is pretty much pristine."
Ms O'Brien said three people from China were bidding over the phone for the garment.
"The butterflies are symbolic in Chinese mythology and I hope it brings good luck to somebody," she said.
"I'd hate to think that it was going to be sold to someone who was going to cut it up!"