Mersey Queensway Tunnel opens doors to the public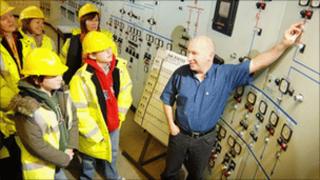 A world of tunnels deep beneath the streets of Liverpool has opened its doors to the public.
The Queensway Tunnel, the first road tunnel under the Mersey, was opened by King George V in 1934.
At two miles (3.2km) and running between Liverpool and Birkenhead, it was then the longest underwater tunnel in the world.
More than 1,700 men worked on the structure. Seventeen were killed, mainly due to electrocution.
The tours include visits to the control rooms and emergency refuge areas.
The tunnel's seven refuge points were installed in 2004, are designed to hold 180 people and have an automatic link to Merseyside Police.
The tunnel also has six ventilation fans, each weighing 25 tonnes.
'Memory lane'
The area was used as a location for Harry Potter and the Deathly Hallows, with a chase scene being filmed at night when the tunnel was closed for maintenance work.
Tour manager Alison Smith said: "It's a great chance to go into the tunnels and explore areas you may never had had the chance to see.
"The refuge points and the fan are the most popular."
Judy Jones, who took part in a tour, described the trip as a "walk down memory lane".
"My mother was one of the first children that was allowed to walk down the tunnel before the traffic," she said.
"It's great to look around and see the work that went into the building."
Tours operate on Tuesday, Wednesday and Thursday at 1700 BST and Saturday at 1000 BST.