Church tower repair work begins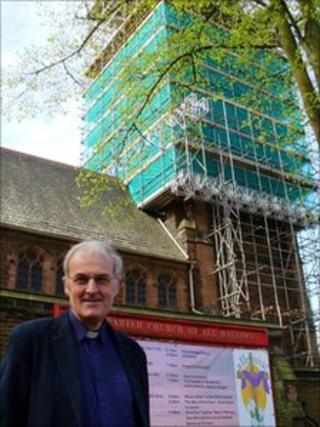 Major repair work has begun on the tower at All Hallows Church in Allerton, south Liverpool.
The work on the Grade II listed building will cost £185,000 and will be completed in early July 2011.
The original masonry at the top of the tower is being repointed while the tower pinnacles and walls are being strengthened and the roof replaced.
The building of the church, consecrated in 1876, was funded by local man John Bibby in memory of his first wife.
The repair work has been funded by donations from the All Hallows congregation and grants from English Heritage and the National Churches Trust.
The Reverend Godfrey Butland, Rector of All Hallows, said: "A church tower is a symbol of strength and faith. Both are qualities we need in these difficult times.
"We at All Hallows are grateful for the funding we have received and take seriously our care for this national treasure."
All Hallows Church has 14 stained glass windows which were designed by Edward Burne-Jones with input from William Morris.
The windows were removed during World War II to protect them from air raid damage.