Liverpool actors land major roles in London's West End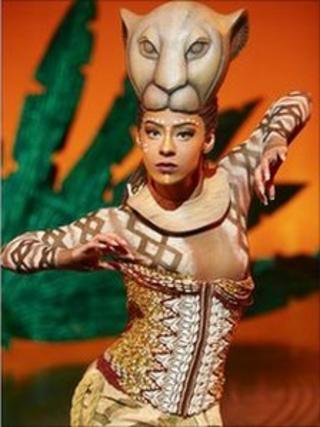 Two Liverpool actors have landed lead roles in two of the West End's biggest shows.
Ava Brennan will star as the lioness Nala in The Lion King and Ryan Collinson will take over the role of Billy in Billy Elliot.
The Lion King is now in its 12th year at the Lyceum Theatre and has been seen by more than nine million people.
Ryan, 12, from Southport will join a team of boys who alternate the role of Billy.
'My dream'
He initially got into dance after receiving a DVD of the film of Billy Elliot for Christmas.
"It all started when I got the DVD, I used to teach myself street dance in my bedroom and then go down and show my mum," he said.
"I started to take lessons and my dance teacher told me I should audition for experience.
"We were on holiday in the Lake District when I found out, I was asleep and mum took the call. I was excited but my mum and dad just cried."
Although appearing in a West End show the boys still have to do their homework.
"We have school from 0900 to 1200 then we go and train, then you go to the theatre, its a long day," Ryan said.
In the story Billy pursues his passion for dance in secret and is bullied for dancing and Ryan said some of his friends initially reacted in a similar manner.
"I got teased at the start but I just ignored it and kept going, I had one friend stood by me and told the other boys to leave me alone. Now when I go back to school they all say they want to come and see me.
"It's my dream and I'd love to stay. I can play the role until my voice breaks or I get too tall so hopefully I'll be able to do it for a long time."
Ava Brennan, from Bootle, described landing the role of Nala in The Lion King as "a dream come true."
Miss Brennan trained at the Loretta Legge Theatre School in Maghull before moving to Germany at the age of 18 to look for work.
While in Europe she played the role of Nala in a German language production of the Lion King. She will now take over the role at the Lyceum Theatre in the West End.
"Since I've been a kid I've been performing. It's always been a dream of mine to perform on the West End and I'm finally here," she said.
"It's really nerve-racking, there are thousands of eyes on you every night and you have to get it right.
"It's a show that everyone can connect to, from children to adults and it's visually stunning."
"Nala is a really a strong character, it's a very physical and emotional role so it's important to keep up the fitness and keep my voice strong."
She said her advice to other young actors hoping to get into the business was "keep working hard, if it's your dream stick at it".