Lifeboats move into new Hoylake museum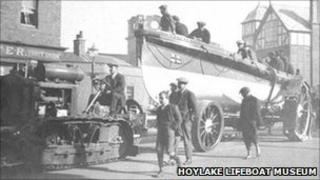 Two historic lifeboats which were once used off the Wirral coastline are being lifted into place at Hoylake's new Lifeboat Museum.
John Parr, from Caldy, aims to open the museum in the old Victorian lifeboat station later this summer.
The station closed in 2008 when the Hoylake lifeboat moved to a new building further along the promenade.
The 1901 Hilbre Island lifeboat and the Thomas Corbett, built in 1948, will be moved from Cammell Laird on Thursday.
The Thomas Corbett was built in Cowes, Isle of Wight, and served as a lifeboat in Ramsey, Isle of Man until 1970.
It then moved to Hoylake, where it was used until 1974 when it was sent to the East Coast of Ireland to serve in Clogher Head.
The 110-year-old rowing and sailing lifeboat, Chapman, served on Hilbre Island from 1901 until 1939.
Mr Parr said both lifeboats were of national importance and were included in the National Register of Historic Vessels.
The old lifeboat station, on North Parade, was founded by the Mersey docks and Harbour Board in 1803 and is one of the oldest on the coasts of Great Britain and Ireland.
Over the years the rescue station has received nine awards for gallantry and has also seen tragedy with nine crew losing their lives saving others at sea.
Mr Parr and a group of volunteers have been campaigning to open a museum there since 1998.
The campaigners acquired the building in February after a local businessman bought it from Peel Holdings and agreed to lease it to the group.