Burton's biscuits to cut at least 200 Wirral jobs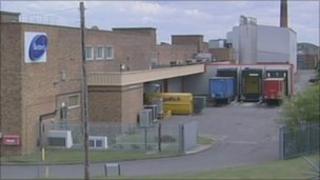 A Wirral MP has said she is angry that Burton's Foods will not be adopting the full plan to save a biscuit factory.
Labour MP Angela Eagle welcomed a decision to keep a chocolate refinery at Moreton saving some jobs.
But she added: "The company was presented with a viable plan to protect most of the jobs. I'm angry that they've chosen to ignore it."
Burton's accepted Unite's plea to keep a refinery but rejected a plan to save other jobs.
Ritchie James, regional officer for the trade union Unite said the deal was "the best possible outcome for our members in terms of sustainable jobs and enhanced terms for those being made redundant."
Up to 60 jobs, 51 in the refinery and 9 other posts, have been saved at the plant and some jobs could open to workers who might wish to transfer to an outsourced packing operation in Liverpool.
The company has also pledged a £2.8m capital investment in the plant.
'Local families'
Mr James added: "However, it is disappointing and upsetting that we have not succeeded in saving the whole site and the 219 jobs that will be lost."
Ms Eagle, who represents Wallasey, said: "Generations of local families have been employed at Burton's, for them and for me this is an extremely sad day.
Burton's said: "The company now confirms a plan based on the union proposal to maintain the chocolate refining operation at Moreton.
"The union proposal to retain a seasonal assortment packing operation has however been rejected as being commercially unviable."
The closure of biscuit production has been put back from 2 November 2011 to 2 December 2011.