Hoylake Lifeboat Museum 'has been a labour of love'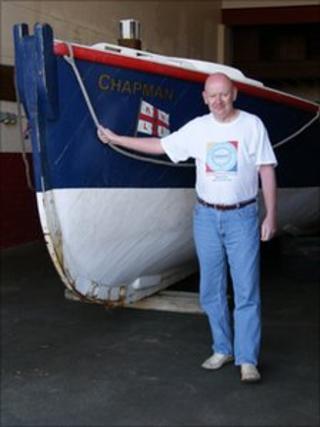 As a boy growing up in Hoylake, John Parr once sketched how he would renovate the old lifeboat station across the sands on Hilbre Island.
And although that childhood dream never came to fruition, he has now realised another ambition - to bring a lifeboat museum to his home town.
Mr Parr has now re-opened Hoylake's former lifeboat station as a museum dedicated to the crafts which have taken part in so many rescues over the ages.
As he stands in the doorway, next to him is a boat which was used on the Wirral shoreline in the 1930s.
Saved from the Ribble estuary, the 1901 Chapman lifeboat is a pulling and sailing boat which would have been rowed by up to 12 men in often dangerous storm conditions.
"In terms of the weather, there was no protection at all," he said.
"You can imagine being launched in one of these boats, any time of night, any conditions, it could be absolutely freezing, you could be soaked in seconds, pitch dark, you weren't entirely sure where you were going, and you had to row like hell".
The Chapman will form the centrepiece of the museum on North Parade, which Mr Parr, who now lives in Caldy, hopes will be open by the end of the summer.
The boats were moved into premises on Thursday and plans are taking shape to develop the museum further.
Historic vessels
Its boathouse and adjacent tractor shed, which was built in 1899, will be turned into a glass-fronted exhibition area and cafe, serving Cheshire ice cream to visitors both inside the station and on land once-used as a car park to the side.
The site will also house memorabilia and model lifeboats in the upstairs look-out and crew room.
A second boat, the 1948 Thomas Corbett, will hopefully be on show outside.
Both lifeboats are listed on the national register of historic vessels, meaning they are of national importance.
Built at the Thomas Iron Works in London, the Chapman took her name from a Mrs Chapman who paid the £932 for her to be built.
The boat left Hoylake in 1939, and was used as a pleasure boat in Blackpool before it was abandoned.
Mr Parr said: "She was instantly recognisable as a lifeboat, but she had a rusty engine bed and a nice sycamore tree growing inside her.
"She was full of rubbish and both the beam sides had burst on the side of the boat and she was just about at the point of no return."
The businessman, who describes the project as a "labour of love", said he wanted to put something back into his home town.
He has already helped a team of apprentices, who restored the boat at Birkenhead's Cammell Laird shipyard, by paying for their training.
"I brought her back to Birkenhead and to the Lead Foundation Apprentice training school, where she formed a training programme for 12 young people who were trained and instructed on wooden boatwork on this boat," he said.
The Lifeboat Museum will be open for visitors wanting a sneak preview on Sunday.