University of Liverpool unveils £600m 'world-class' plan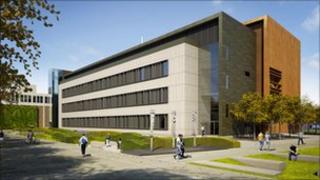 A £600m plan to turn the University of Liverpool into a "world-class" learning environment has been unveiled.
Based on student demand and market research, £250m will be spent on accommodation, said the university's director of faculties management.
A further £25m will also be used to create improved research facilities.
The revamp will be completed in phases, with the first set of laboratories due to be finished in October.
As well as refurbishing existing accommodation the university is also developing new residences off and on campus.
Building work has already begun on a complex that will house a variety of shops, a restaurant and 710 bedrooms in the city centre.
Steve Dickson, director of facilities management at the university, said: "Applications for our accommodation have doubled this year and it's important that we make this significant investment in order to meet student demand in the future.
"It's important that all aspects of our student experience - including accommodation - are world-class, in order to attract the most talented students to the university."
Over half of the invested money will be spent on the academic estate at the university's city centre campus and at its Leahurst campus on the Wirral.