Southport conference examines role of men in church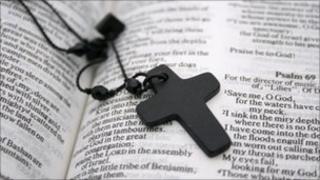 The role of men in the modern church will be the focus of a conference in Merseyside in June.
The event at Christ Church in Southport will look at why the number of men attending church is dropping and what churches can do to stop it.
Andy Drake from Christian Vision for Men, who are running the event, says the fact men are outnumbered in church means that worship styles appeal more to women.
"We have been in the grip of something called the intimacy movement of worship for the last 20 years," he explained.
"Some of the songs around that style are very touchy-feely even referring to Jesus as My Lover for example, which a lot of men struggle with."
Female lieutenants
Although most churches are led by men, Mr Drake says it is women who run the church on a daily basis.
"If you look around your average church about two thirds of church population are female and a third is male," he said.
"You've probably got a male leader, but then underneath you've got all these lieutenants who are female. Leaders of the choir or Sunday School or the secretary, the predominant leadership is actually female."
The CVM is a charity which works with churches across the UK to help them be more relevant to men.
Mr Drake says he hopes the conference will encourage men to explore their faith.
"We are always wrestling with the simplistic notion people have, that you are only a man of God if you are an alpha male - or the opposite that you are only a real man if you are in touch with your feelings," he added.
"We find that blokes really respond to straight down the line teaching and talking and we don't sugar coat stuff.
"We have an non-intimacy style of worship. When we talk about subjects we go straight for the jugular.
"What we say is that masculinity is on a scale and you might be a poet, you might be a brick layer, you might be a brick laying poet - it doesn't matter.
"What matters is that you feel relaxed to explore what god has called you to be and to do. Don't apologise but be the man god made you and be that man 100 per cent."
The conference Kingdom Warriors takes place at Christ Church, Southport on 18 June 2011. For more information visit the CVM Men Conference website.