Stuffed animals found in St Helens farm raid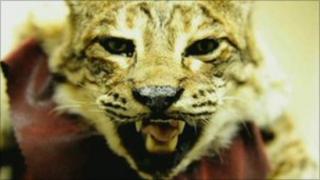 A collection of stuffed animals including two Bengal tigers, a black bear and a spitting cobra have been found at a house on Merseyside.
The endangered animals were discovered by police in a raid on a farm in St Helens on Thursday.
Two stuffed Canadian Lynx were also found as well as a star tortoise, a red squirrel, animal skins and birds' eggs.
A man has been arrested on suspicion of smuggling and the prohibited purchase of endangered species.
The 45-year-old from St Helens was later released on bail pending further enquiries.
The raid was carried out with Animal Health and Veterinary Laboratories Agency Wildlife Inspectors and The National Wildlife Crime Unit.
The team uncovered various skins - including one from an ocelot - and animal parts such as skulls and birds eggs from the farm.
Merseyside Police Wildlife Officer Rachael Krueger said: "Trading endangered species is regulated and specimens are afforded a level of protection.
"The trade of such items in the UK without the proper permit and licensing is illegal, and we work hard with our partners to track down people who are prepared to flout the law when it comes to endangered species."