Knowsley Council call to ban roadside memorials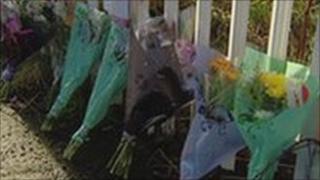 Councillors in Knowsley are to discuss whether to ban roadside memorials to crash victims on its busiest roads.
The council's cabinet meets later to decide on recommendations from its Economic Development and Environment Scrutiny Committee.
Council officials say the memorials are a risk both to road users and those placing the tributes.
Knowsley Council said it also recognised the need to be "sensitive" in promoting the policy.
The two roads in the borough which have been singled out are Speke Boulevard and Knowsley Expressway.
The council is particularly concerned about the tributes placed on grass verges and roadside railings.
A council spokesperson said the committee had recommended "the development of a borough-wide roadside memorial policy, which could include prohibiting roadside tributes on high-speed roads".
He said: "Safety has to be the number one priority and the scrutiny committee have expressed concern that people are taking risks to visit and maintain roadside memorials at dangerous spots on high speed routes.
"In some cases the tributes can also present a hazard to passing motorists. It is hoped that restricting tributes on such routes will help prevent further unnecessary tragedies."