Cat shot in head with crossbow bolt in St Helens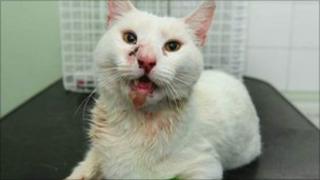 A cat shot in the head with a crossbow bolt in Merseyside has made a "miraculous" survival after four hours of surgery.
Spike was found with a 12in (30.5cm) bolt embedded in his skull near his home in Sutton, St Helens, on Tuesday.
The steel bolt was removed during surgery and has been retained by police for forensic tests.
Owner Sandra Grogan said finding her cat in distress was "horrible and grotesque".
"You don't expect something like this to happen in a nice family area," Mrs Grogan told the BBC.
"[It was] horrific to actually see a pet I love so much to have a 12in steel bolt stuck through his head.
"It's a picture I never want to see again and I would not like anybody else to go through that.
"It was horrible, it was grotesque, it was indescribable."
Police appeal
Vet Catriona O'Brien of Alder Veterinary Centre, which carried out the operation, said it did not know how the bolt missed Spike's vital organs.
"It went in at the right of his sinuses and pinned his tongue down and then came out of the back his neck somehow missing his brain and his jugular vein," she added.
"We have not had to deal with a crossbow attack on a cat before and it is shocking.
"Unfortunately we see many cats shot at by airguns."
It has emerged that a previous cat belonging to Spike's owner was killed by a shotgun pellet four years ago.
Anyone with information about the attack on Spike, who was found at about 1600 BST, is asked to contact police.