Queen Victoria's shoes on display in Wirral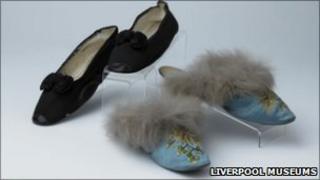 Shoes belonging to Queen Victoria and Alexandra Princess of Wales have gone on display in Wirral.
The corded shoes and embroidered slippers feature in The Finishing Touch exhibition at the Lady Lever Art Gallery in Port Sunlight.
The display tells the story of the changing role of women in society between 1830 and 1940 and how this was reflected in ladies' fashion.
Previously unseen hats, gloves and jewellery are also on show.
Exhibition curator Alyson Pollard said: "Queen Victoria did a lot of walking on her Balmoral estate and popularised walking for women as a past time.
"The shoes in the exhibition are black corded shoes with little bows on the front and patent leather tips to the toes.
"They would have been for everyday wear, probably inside the house and to go outside only in good weather."
The straight soled shoes date from between 1840 and 1850 when shoes were made the same shape for both the left and right foot.
"It wasn't until the middle of the 19th century that they started making shoes shaped each foot," Ms Pollard continued.
"On one side of one of Queen Victoria's shoes there is a patent leather patch. Whoever made them for her has reinforced them to fit her foot. They aren't well worn so we know it's not a mend."
The exhibition also features a pair of slippers owned by Alexandra Princess of Wales.
"They are beautiful green, embroidered with flowers and leaves on the front," Ms Pollard explained.
"They are they are like a mule so they've got a low heel and a big fur trim. They were embroidered by Princess Alexander's dresser who had them made into slippers to give as a gift to the Princess."
Other items in the display belonged mainly to people from Merseyside which have been donated to the museum's collection.
"In 1830's middle class women stayed indoors and their clothing and shoes reflect that.
'Important role'
"After the first world war women were out and about, later they were working in office jobs and had careers, some were working as doctors," Ms Pollard explained.
"A pair of boots in the exhibition from about the time of the first world war have a low two inch heel and imitation spats.
"Spats were coverings men would put over their shoes in the 1920s and 30s and these ladies' boots are made with suede spats as a fashionable way of saying they had an important role."
The Finishing Touch: Women's Accessories 1830-1940 runs at the Lady Lever Art Gallery until 11 December 2011.