David Morrissey masterclass for Huyton pupils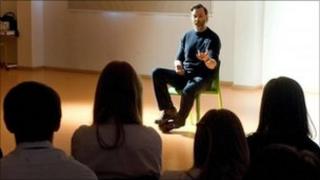 Actor David Morrissey has gone back to school on Merseyside to give a masterclass to aspiring thespians.
Mr Morrissey, currently starring in the lead role of Macbeth at Liverpool's Everyman Theatre, visited Huyton Arts and Sports Centre for Learning.
The former Dr Who star had attended St Margaret Mary's infants, juniors and seniors in Huyton as a child.
He spent the morning talking about his career in television, film and stage and answering students' questions.
Mr Morrissey, who won critical acclaim for his portrayal of Gordon Brown in the Channel 4 drama The Deal, said: "This was a great opportunity to come and talk to students who have an interest and passion in performing arts.
"Hopefully my experiences will inspire them to continue to follow their chosen path in the performing arts."
The students had participated in a Macbeth project at the Everyman Theatre. The creative director of the Everyman, Gemma Bodinetz, gave an overview of how Macbeth is brought to life on the stage.
Following the session, the students watched the play, which also stars Julia Ford.