St Helens man bailed over cat shot with crossbow bolt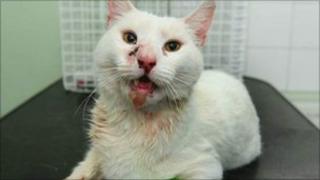 A man who was arrested over the shooting of a cat with a crossbow bolt has been bailed pending further enquiries, police said.
The 39-year-old from Sutton, St Helens, was questioned by officers about the shooting of the cat, called Spike, who was shot through the head.
An air weapon that can fire a crossbow bolt, which was seized at the time of the arrest, is still being examined.
Spike survived the attack after undergoing four hours of surgery.
The bolt pierced the cat's face and came out through the back of his neck.