Shorefields teachers in third strike over academy bid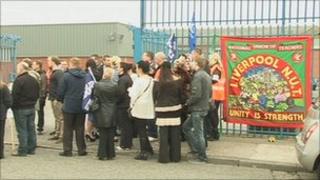 Staff at a secondary school in Liverpool are staging a third one-day strike in protest at plans to turn it into an academy.
Teachers at Shorefields Technology College in Dingle have already staged walkouts in March and May.
The National Union of Teachers (NUT) said staff were concerned that becoming an academy might damage the quality of education at the school.
Governors believe it would help secure extra funds.
The school currently has about 600 pupils - but has room for 900.
No reply
Governors have said becoming an academy, possibly sponsored by the University of Chester, could help avoid the need to merge with another school in future.
They said it would allow them to develop the sixth form, improve resources and provide students with more opportunities.
Ian Young, deputy head teacher at the school, said: "As more schools move to academy status, we are concerned as to why our students are being disadvantaged further by the teaching unions holding a third day of strike action.
"This a good school with many outstanding features. We wish to improve the school further and academy status will allow us to raise the aspirations of students by developing our sixth form, improving resources such as ICT and allowing us to work in partnership with an outstanding educational provider."
But Julie Lyon-Taylor, from Liverpool NUT, said the college should listen to what the unions and the teachers have to say.
She said: "They will not talk to us. I have written and asked for details of consultation, I have had no reply to my letter.
"The trade unions have not been consulted with whatsoever about going over to an academy, and there has only been priority parents and certain students who have been consulted.
"It's a farce."