Liverpool links to Elvis tourism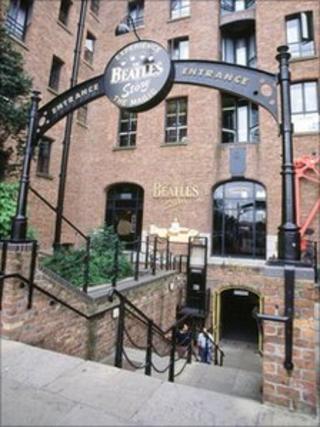 Liverpool tourism venues are to link with counterparts in Memphis as the cities look to use The Beatles and Elvis as a way to increase visitors.
Venues promoting the city as the birthplace of The Beatles will join with attractions in Elvis' hometown.
The attractions will become "Rock 'n' Soul Mates", promoting one another.
Jerry Goldman, of The Beatles Story said: "The big issue is attracting more tourists to Liverpool - that's why we're doing this... "
Stax museum
Various Liverpool venues will develop partnerships with tourist attractions in Memphis as a way of encouraging more visitors from the US to come to Liverpool.
Liverpool's International Slavery Museum will link with The National Civil Rights Museum in Memphis; while the Museum of Liverpool opening in July will partner with the Stax Museum of American Soul Music.
"Three million visitors come from the States to the UK and Liverpool sees perhaps three per cent of them," Jerry Goldman said. "That's a very low number and we need to attract many more."
"The Americans who come to Liverpool all say, 'Why didn't we come before, we never knew it was as wonderful as this'.
"Wherever you go it won't just be Beatles, it will be everything about Liverpool and people will not be able to miss it. They get 20 million tourists a year to Memphis and we're going to bring a considerable number of them to Liverpool now."
Regena Bearden, of the Memphis Convention and Visitors' Bureau, said: "The United Kingdom is a very important market for visitors coming to Memphis, it's our strongest market in Europe.
"We believe it will create an even stronger bond in branding our city and we hope to create the idea among visitors here in the States that Liverpool's a great place to visit."
Graceland - Elvis's former home - and The Beatles Story have recently announced a jointly-curated exhibition, Elvis & Us, which will launch in Liverpool on 28 September. The two cities aim to eventually establish links between 40 attractions.