Giant Liverpool cityscape ready for new museum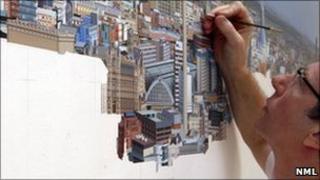 A giant cityscape painting of Liverpool will be one of the star attractions at the new Museum of Liverpool.
The panoramic work, by artist Ben Johnson, illustrates the city centre's buildings in detail.
The Liverpool Cityscape was painted during Liverpool's European Capital of Culture year in 2008.
The Museum of Liverpool, which opens on 19 July, is included although it was still under construction when the cityscape was created.
Ben Johnson painted the final parts of the cityscape in Liverpool's Walker Art Gallery over a five month period during which visitors could watch him at work.
The painting took three years to complete, it was started by Johnson in his London studio in 2005 and required 11 assistants during the length of the project.
'Ordinary workman'
"The experience was really overwhelming," the artist said.
"If I have 50 visitors in my studio in a year it's unusual. We were getting 1,100 people a day, and I was finishing the painting in public.
"People that loved this city came to watch me paint not because it was a piece of art but because I was portraying their city, and that was what was so important to me."
The work will be displayed in the Skylight gallery on the second floor of the new museum at Liverpool's Pier Head.
Mr Johnson said: "I hope it helped to break down the barrier that so often in a museum people think things arrive in a gold frame out of an ivory tower.
"This is the product of me getting my hands dirty and I'm an ordinary workman like anybody else."
He said he carried out six months of research before starting work on the painting, ensuring the depiction of each building was as accurate as possible.
"I started the process of drawing, and on the drawing I worked with three draughts people for three years.
"Every single building was reconstructed and I took three and a half thousand photographs. I walked every single street and photographed each building that appears in the painting."
'Stunning Space'
"Each building is considered and presented individually," Mr Johnson said.
"But, what I did do, the cheating aspect, is I brought in, and made sure the two football stadiums were there."
Mr Johnson said the new museum was a "stunning space and I think it's a building of real quality which is what the people of Liverpool deserve".
"This city has great depth and the depth comes from the people and the tales of the people.
"The whole city is full of great architecture and not so great architecture, and it is all the by product of the people that made Liverpool. It is the people that made Liverpool and not the buildings."