Liverpool prepares for Arabic Film Festival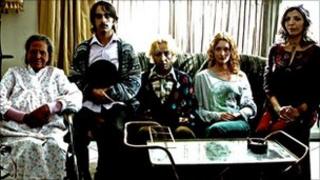 Liverpool's first Arabic Film Festival is to be held at the Foundation for Art and Creative Technology next month.
The event, from 4 to 10 July, is linked to the long-running Liverpool Arabic Arts Festival.
It includes UK premieres of films and will focus on the history and politics of the Arabic-speaking world.
Festival curator Omar Kholeif said: "I've put classic films alongside new films to really begin to give people a full picture of Arabic cinema."
The festival programme will also include discussions with Arab filmmakers including Moroccan-Spanish siblings Imad and Swel Noury, whose film The Man Who Sold The World will have its UK premiere at the event.
Mr Kholeif, who was born in Cairo and raised in Glasgow, said he had wanted to create an Arabic film festival since moving to Liverpool two years ago.
'Revolutionary angst'
"In a city that houses one of the largest Arab communities in the UK and the country's only annual Arabic multi-arts festival, it's a great moment to launch a film festival showcasing Arabic cinematic talent," he explained.
"It's also especially timely with the constant changes and restructures in the Arab world.
"A historic tradition that I've noticed is that Arabic cinema doesn't have a conventional place in the canon of world cinema.
"These films are excellent films that would resonate with an audience here, yet we don't see them in the cinema."
The festival, the only one of its kind in the UK, includes a screening of independent Egyptian filmmaker Ahmad Abdalla's film Microphone which looks at the underground art and music scene in Alexandria, Egypt.
Microphone was the first Egyptian film to win the Golden Tanit award, at the 2010 Carthage Film Festival. Mr Kholeif said the film had increased relevance since the events of the Arab Spring.
"Microphone, which was made a year before the Arab Spring, has a real sense of revolutionary dissidence in the narrative," he said.
"It's interesting to take a look at these films, which were made a year before the Arab Spring, and to question the outcomes that have happened now.
"It's an interesting time to have it, you can reflect now looking back a year when these new films were made."
The festival will be showing three films by the late Egyptian director Youseff Chahine: The Land, Cairo Station and Alexandria, Why?
"He's an Egyptian auteur filmmaker who is renowned for his film Cairo Station in the mid-50s which changed the landscape for Arabic cinema because it created this shift towards realist cinema," Mr Kholeif explained.
"His films are these wonderful films which create a historic picture of the Arabic world.
"What's interesting when looking at the historic films is there is this narrative trajectory which feeds through them, this dissidence and revolutionary angst and this desire for freedom."