Liverpool actor's 40 marathon 40th birthday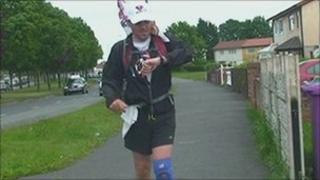 A Merseyside man has completed 40 marathons in 40 days ending on his 40th birthday and raised thousands of pounds for terminally ill children.
Steven Hill, an actor and businessman from Liverpool, has run around the city every day for the past 40 days clocking up 1,048 miles,
He ran in total for more than 200 hours to raise cash for Zoe's Place, a Liverpool children's Hospice.
Throughout the challenge he has been joined by well-wishers and friends.
Mr Hill, who has acted in Crimewatch and at the St Helens Theatre Royal, said he had suffered some muscle and tendon injuries during the marathons, but was confident he would make a full recovery.