Circus Mondao: Animal rights protest in Prescot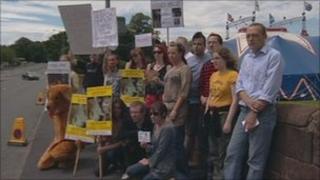 Animal rights protesters have been campaigning outside the site of a travelling circus in Merseyside.
Circus Mondao, which is one of three in the UK which still uses wild animals, was performing at Whitaker Garden Centre in Prescot on Sunday afternoon.
Merseyside Animal Welfare chanted and handed out leaflets criticising the use of animals in the shows.
It has two camels and two zebras which are classed as wild animals.
'Healthy animals'
Performer and trainer Petra Jackson said: "Our wild animals in our circus live quite happily like our horses do, grazing out in the daytime and in an enclosure at night time for their own safety.
"They are happy, healthy animals. Any animal welfare officer that has come to inspect us has always written that our animal husbandry and animals are excellent."
She added: "We are quite happy when there is a peaceful protest.
"As long as they stand there peaceful and hand out their leaflets, we're always happy, everybody has got their own opinion."
Niki O'Leary, from Merseyside Animal Welfare, said: "The animals are in a totally unnatural environment, they are taken from trailer to trailer, all round the country and they are made to perform, it is no life for an animal.
"At the end of the day they are there to make a profit for the circus," she said.
"No matter how well they profess to care for them, it is still not right."