Councillors reject Merseytravel expenses curb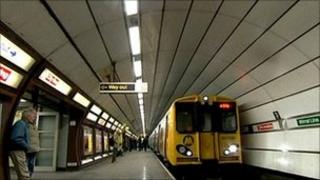 Labour councillors on the body overseeing public transport on Merseyside have rejected a call for their expenses to be set independently.
A motion by Lib Dem councillor Andrew Makinson, calling for an independent panel to set allowances for councillors on Merseytravel, was rejected.
Mr Makinson said he was disappointed that the Labour-dominated authority had rejected the plan.
But Labour said it was looking to have the allowances reviewed.
"After the expenses scandal it's amazing that Labour councillors think they can get away with setting their own salaries, and claim multiple allowances for attending meetings," said Mr Makinson.
"When the public see over 30 paid jobs created to split between just 13 Labour councillors, they must think the transport authority is running a gravy train."
He claimed that the authority could save £75,000 a year if members just received one special responsibility allowance.
Councillor Alan Dean vice chair of Merseytravel said: "It is not something we are comfortable with."
He said the authority was looking for somebody to review the allowances system and will standby its findings.
Merseytravel is the only travel authority not to have an independent review for members' allowances.