Liverpool store chain TJ Hughes to call in administrator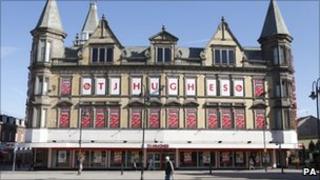 Department store chain TJ Hughes has said it is planning to appoint an administrator after reporting a downturn in trade.
The Liverpool-based firm employs more than 4,000 people at its 57 stores across England and Wales.
The homewares, menswear and beauty retailer said it would bring in the administrator over the next 10 days.
It was bought out by its management team in March following the withdrawal of credit insurance for its suppliers.
The buy-out was funded by Leeds-based turnaround specialist Endless.
It is not yet known what long-term impact the move will have on jobs at the company, which was founded in Liverpool in 1912 by Thomas Hughes.
A TJ Hughes spokesman said the shops would remain open and staff would continue to work for the time being and that a potential buyer was being sought.
'Really crowded'
John Gorle, of the shopworkers' union Usdaw, said: "This will be devastating news for our members but sadly it won't have come as a complete shock to most of them, as they have been at the sharp end of the company's recent and urgent attempts to reduce costs.
"The company has assured Usdaw that it will continue to pay staff as normal and that there are no immediate plans for any store closures or redundancies.
"Usdaw firmly believe TJ Hughes still has a place on the high street and we will continue to work closely with the company and, if necessary, any administrators to safeguard jobs and to secure a sustainable long-term future for the business."
Pat Parkes, 76, from Vauxhall, is a regular shopper at the city's London Road shop.
She said: "How awful. It's my favourite shop, they do everything. It's always really crowded on a Thursday and a Saturday and at Christmas it's chocka.
"A lot of elderly people shop here. I bring my neighbour for shoes and cards at Christmas time. It's like Woolworths, it has everything under one roof."