Six of UK's most wanted men are in the Netherlands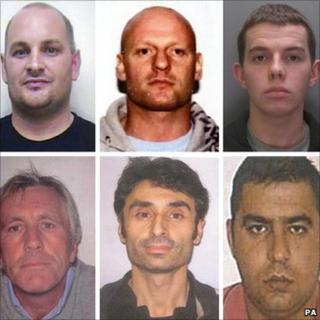 Six of the UK's most wanted men are suspected of being on the run in the Netherlands.
The men - three of whom are from Liverpool - are believed to be in and around Amsterdam.
An appeal to trace them has been launched by Crimestoppers with the Serious Organised Crime Agency (SOCA).
Paul Finnigan, 22, and Mark Fitzgibbon, 40, are accused of being in involved in supplying drugs. Mark McKenna, 39, absconded from Subdbury prison in 2008.
He was serving a 15-year sentence for conspiracy to supply class A drugs.
Mr Finnigan, who is slim with light brown hair, is accused of being part of an organised crime group which conspired to import drugs into the UK between 2008 and 2009.
Previous success
Mr Fitzgibbon is accused of possession and supply of large amounts of amphetamines and cannabis.
Also on the list are Albanians Belino Gripshi, 37, and Dejan Shega, 34, who are both wanted by police in London for conspiring to supply class A drugs and money laundering offences.
Both men are believed to belong to an organised criminal network trafficking cocaine into the UK.
James Tarrant, 56, is wanted after he went on the run in 2009, following his conviction for conspiring to supply cocaine and cannabis and possession of a firearm and ammunition.
Dave Cording, Crimestoppers' deputy chief executive, said: "I am pleased to see the repeat of this campaign.
"This follows our recent success of Operation Captura in Spain earlier this year, where two of the 10 subjects were arrested within 48 hours of the launch. I hope this success will be replicated in the Netherlands.
"Not only is the campaign successful in tracking people wanted for serious offences, but it displaces them as well, but as we can see, no matter where these wanted individuals run to, law enforcement will find them."
Anyone who may have information which could help trace these men has been urged to contact Crimestoppers.