New takeaways banned near schools by St Helens Council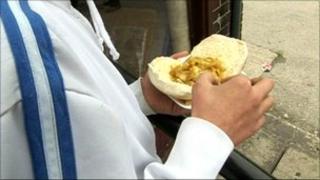 New fast food outlets are to be banned within 400m of schools and colleges, a Merseyside council has decided.
St Helens council said it was trying to tackle an obesity problem which sees an estimated 20,000 overweight people in the borough.
Council officials said obesity costs the local primary care trust an estimated £3.6m a year.
Councillors believe that the borough is saturated with 161 hot food takeaways with too many near schools.
"I think that's more than enough to serve our community," said Councillor Andy Bowden, cabinet member for urban regeneration and housing.
He added: "What we're saying here is enough is enough and we're using a robust planning policy to prevent further takeaways opening especially near our schools."
The council and health officials believe progress is being made in tackling obesity but believe it needs speeding up.
"Children who are obese when they are young get fatter and fatter as they get older and by the time they become adults, they are very overweight," said Eileen O'Mara, assistant director of public health at NHS Halton and St Helens.
But takeaway owners are sceptical about the policy.
Gary Madine, owner of the Tasty Corner fish and chip shop in Denton's Green, St Helens, which is near a secondary school, said he did not think distance would deter schoolchildren and students.
"They're not going to change anything, people are going to eat what they are going to eat, it is as simple as that," he said.
Tam Fry, of the National Obesity Forum, which campaigns for better awareness of weight issues, said schools needed to provide a better alternative to the local fast food outlet.
"If schools are going to make it work they are going to have to look at their own canteen system and make sure the food on offer is going to be attractive to the children," he said.