MEP Paul Nuttall: Hospitals 'leaking patient data'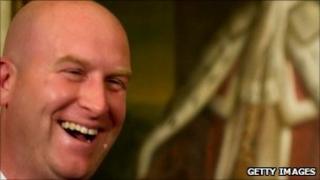 An MEP is calling for an urgent inquiry into allegations that patient information has been sold to accident claims firms by two hospitals.
Paul Nuttall, a North West MEP, said he had received allegations about Arrowe Park hospital in Wirral and the Royal Liverpool University Hospital.
The UKIP politician claimed constituents had received text messages after hospital treatment.
Management at both hospitals have rejected the allegations.
Mr Nuttall said: "Once they get out of hospital they are bombarded with text messages.
He added: "There is no garage or insurance company involved. It is either a coincidence or the information has come from the hospitals."
A statement from the Royal Liverpool University Hospital said the allegations were "completely false".
'No evidence'
It added that patients who had contacted Mr Nuttall should raise the concerns with the hospital trust.
Wirral University Teaching Hospital NHS Foundation Trust said: "It is extremely irresponsible of Mr Nuttall to make the claims he has without having made any attempt to validate his information."
It added: "The trust's understanding is, and this is borne out by recent reports in the media, that there are organisations set up to randomly contact mobile phone users with the type of message referred to.
"We also have evidence that such messages are received by people who have never visited our hospitals."