Wirral MPs Arrowe Park vascular surgery review call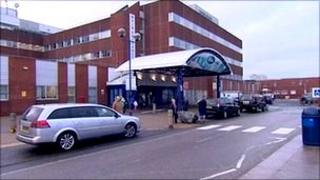 Wirral MPs have written to managers at Arrowe Park Hospital to ask them to carry out a full review of plans to move vascular surgery to Chester.
The cross-party MPs claim the management proposals to move it to the Countess of Chester hospital have been drawn up outside government guidelines.
Consultants say the move will turn the hospital into a "second rate" centre.
Wirral University Teaching Hospital Trust, which runs Arrowe Park, said it did not agree with the MPs allegations.
The trust said it acknowledged the MPs concerns and said it believed its doctors accepted the need for fewer and better vascular centres.
Surgeons performed 326 major vascular operations at Arrowe Park in 2010.
Labour MPs Frank Field, Angela Eagle and Alison McGovern and Tory MP Esther McVey, who represent the four Wirral constituencies claim the move will cost the NHS extra money and will take services further away from people who need them.
"The worry of the four Wirral MPs is that it looks as though in deciding where vascular surgery will go that somehow there's a been a deal behind closed doors and we've certainly not been through the procedure which would centre on what is best for patients," Mr Field said.
He added: "What's the extra money that Chester will have to bid for to bring their site up to the standard that Arrowe Park already has and there's a big cost there?
"How do they satisfy us that once this change is made that the residents of our four constituencies will get as good or an even better service, rather than a worse one?