Funds scam costs Liverpool Community College £80,000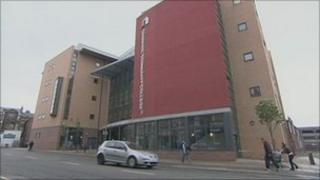 A Merseyside college used fake employer references to gain student funding, an investigation has found.
Liverpool Community College was ordered to pay £80,000 following a two-year inquiry by the Skills Funding Agency (SFA).
The University and College Union (UCU) said it feared jobs could be cut to make up for the savings.
Principal Elaine Bowker said the college had repaid the money and staff and students would not be affected.
She said the amount was only 0.04% of the college's income.
The college, which has 18,000 students a year, has been rated as outstanding by Ofsted.
Concerns came to light after a whistleblower contacted the Learning and Skills Council (now the SFA) relating to funding in the Information Technology department between the years 2000 and 2007.
'Bogus references'
Five of the whistleblower's allegations, and another from a former student, were investigated. One was upheld and two were partially upheld.
The main allegation which was upheld was that bogus employer references were provided for students to gain funding from the European Social Fund. The investigation regarding this allegation was passed to police, the SFA said.
The SFA partially upheld an allegation that some staff were enrolled on courses in areas where they were already qualified or did not complete.
A third allegation, which was also partially upheld, was that students were enrolled on second courses which were similar to courses they had already qualified in.
The SFA said this was deemed bad practice at the time although it did not breach funding regulations.
It said the college has repaid £19,745 in relation to the allegations which were upheld or partially upheld.
'Exceptional staff team'
The inquiry also found the college had not retained documents relating to a specific project and "as a result of this compliance/administrative issue the college has repaid a further £60,165", the SFA said.
The UCU has called for an urgent meeting with the principal of the college.
Regional official, Lynn Collins, said: "We want to ensure that the financial penalties incurred by the college do not impact on members' jobs or the education of students.
"With the publication of this report, UCU believes it's time for the college to move on and do what it does best - providing a quality education for Liverpool's diverse communities, with an exceptional staff team proud to serve the public."
Ms Bowker stressed that there was "no fraud or no wrongdoing by any staff".
"We are guilty, however, of administrative and compliance errors."
The way colleges have to claim funding was very complex, she said.
She added that if other colleges were placed under the scrutiny it had subjected itself to, as well as two independent bodies, it was likely errors would be found.