Elsie to play Chester Rocks gig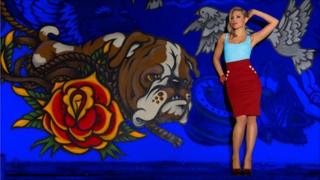 Cheshire-born singer songwriter Elsie returns to her home town to perform at Chester Rocks.
Elsie, also known as Laura Critchley, will headline the Dawsons Farida-Guitars stage at the festival at Chester Racecourse on Saturday 2 July.
The Little Sutton artist has recorded her debut album with Stereophonics' producer Jim Lowe, which will be released in 2012.
She has been on tour as a backing singer for Tom Jones since 2010.
Elsie told BBC Radio Merseyside that she is looking forward to returning home and performing in Chester.
"It'll be great to look out into the audience and see lots of faces that I actually recognise," she said.
"I have a very rock voice and I love 80s rock - so what you're getting is Discorock, as I like to call it.
"You can, and should, dance to it, but if you feel the need to strum some air guitar, that's also catered for and encouraged."
Elsie, who last played in Liverpool for Beatles Day in 2009, will headline the stage dedicated to showcase new local talent.
She said she will be making sure she catches some of the bands that are playing.
"Liverpool and the surrounding area are such a hotbed for talent. I'll be getting down there early on Saturday to see some of the other bands and have a boogie.
"Amsterdam is playing on Sunday so I'll be checking them out as well.
"The last time I played Liverpool was for Beatles Day 2009 with my mate Ian Prowse. We jammed in Williamson Square in front of a bus."
Chester Rocks will see performances from established acts including Iggy & The Stooges, The Saturdays and The Wanted.
In addition, the festival will host over thirty unsigned acts from Merseyside, Cheshire and North Wales.