First Range Rover Evoque rolls off Halewood production line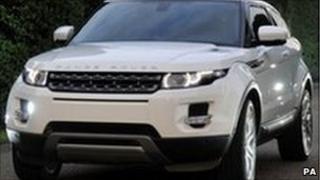 The first Range Rover Evoque has rolled off the production line at Jaguar Landrover in Halewood, Merseyside.
The car, which has been dubbed the "baby Range Rover", has attracted more than 200,000 enquiries from potential buyers.
Its manufacture has created £2bn of supply contracts to about 40 UK firms.
The plant took on 1,500 extra staff in January to help it meet the predicted demand for the £30,000 car.
More than 14,000 people applied for new jobs at the plant, with 8,000 submitting forms within the first week of the posts being advertised.