Skateboarders fight to keep park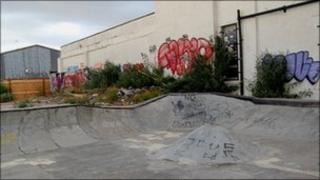 A group of teenage skateboarders in Liverpool are fighting to keep their skate park open.
New Bird Skate Park in Jamaica Street was created on privately owned waste land in 2009 and was supported by Liverpool City Council.
The land was repossessed in July and the site has now been fenced off for health and safety reasons, meaning the skaters cannot access the park.
The skateboarders say they will be forced to skate on the city streets.
Health and safety
One skateboarder explained: "I'm gutted because it was the only place we had in town to do the sport we enjoyed and now they are trying to take it away from us.
"Building it was a good project for us to do and we all loved it and now it's been taken away."
The land is now owned by the Co-operative Bank. Spokesman for the bank Andy Hammerton said: "National guidelines require disused land and property to be insured within 30 days.
"Before insurance could be provided a number of health and safety issues on the site had to be addressed, including the risk that someone could be injured in the area unofficially used for skateboarding.
"We would definitely be happy to talk to the council regarding the future of the area."
A Liverpool City Council spokesman said: "We are supportive of the skate park and we would like it to remain in use because of the benefits it gives to young people."