Hoylake Lifeboat Station to get new Shannon RNLI boat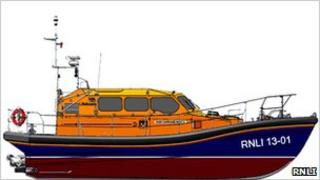 A Merseyside lifeboat station is set to become one of the first in the country to receive a new class of lifeboat, the RNLI has said.
The £1.5m Shannon will replace Hoylake's Mersey class lifeboat, the Lady of Hilbre, when it comes to the end of her service in three years.
The new boat will be partly funded by the proceeds of an RNLI appeal from 2007 to 2009.
The appeal also helped pay for Hoylake's new lifeboat station.
John Curry, Hoylake RNLI Lifeboat operations manager, said: "Everyone at Hoylake lifeboat station is delighted and extremely honoured that we are to receive one of the first of the new Shannon class of lifeboats.
"Some of the crew saw the prototype of the vessel in action and were impressed by her capabilities so we are sure the Shannon will enhance our ability to save lives.
"We are fortunate to have a marvellous new lifeboat station here at Hoylake and the arrival of the Shannon will make the building complete."
'Cutting edge'
He added: "People in this area were extremely generous when we appealed for their support to raise funds for our new station and lifeboat and so we are very much looking forward to demonstrating what the appeal has helped provide for the Wirral coast."
The RNLI said the Shannon had been designed by RNLI naval architects. They used "cutting-edge technology to ensure the new lifeboat meets the demands of a 21st Century rescue service," it said.
It is designed to operate in shallow waters and highly manoeuvrable so crews have greater control alongside other craft and in confined waters.
The Shannon has a top speed of 25 knots - faster than the Lady of Hilbre which has a top speed of 17 knots.