MP Steve Rotherham wants News of the World boycott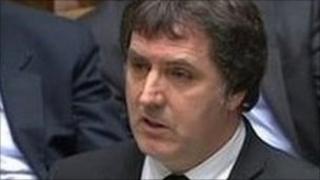 A Liverpool MP has called on people in Merseyside to stop buying the News of the World after allegations it hacked into dead soldiers' families' phones.
Walton Labour MP Steve Rotherham pointed to the city's successful boycott of The Sun after Hillsborough.
Sainsbury's and Npower are among the latest firms to withdraw advertising from the NoW and The Royal British Legion has dropped it as a partner.
The Sun's sales plummeted in Liverpool after it lied about fans' behaviour.
Published an apology
The latest allegations about Rupert Murdoch's News International, which owns both papers, are that the NoW hacked into the phones of relatives of soldiers killed in Iraq and Afghanistan.
The Sun ran a front page story in April 1989 declaring what they headlined as 'The Truth' about Hillsborough where 96 Liverpool fans were crushed to death.
It said Liverpool fans had urinated on the dead, pick-pocketed bodies and beat up police officers giving the kiss of life.
Some 15 years later The Sun published an apology after sales failed to recover.
Mr Rotherham said: "I think the only way that you're going to affect anything is by taking direct action.
"Let's face it when we tried this ourselves as a city, as Merseyside in 1989 following The Sun newspaper headlines, Murdoch did attempt to offer an olive branch and that's because he'd been hit in the pocket.
'Mass circulated'
"It was not because they want to to do anything for the people of Merseyside as recompense but because he was losing money, so I think the only way the country as a whole is going to be able to show or vent its anger is by withholding their one pound and not paying it for the rag of a newspaper, the News of the World."
"The likes of those advertisers only pay the millions of pounds they do to News International because it's a mass circulated newspaper.
"If people stopped buying it, believe me the likes of those 'A-list' advertisers will stop advertising in that particular newspaper and find somewhere else to spend their money and that will hit Murdoch and the paper and it couldn't come soon enough.
Car manufacturer Ford was the first firm to announce boycotts on Tuesday after allegations the NoW hacked into murdered schoolgirl Milly Dowler's phone and deleted messages.