Clothing from the Austen era displayed at Sudley House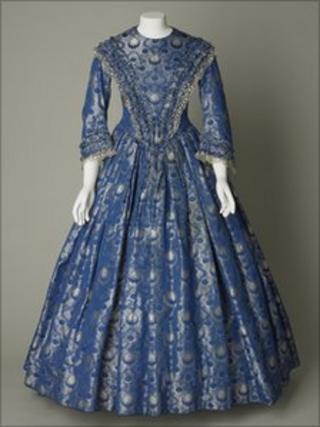 An exhibition of clothes and accessories from the Jane Austen era has opened at Sudley House, Liverpool.
Costume Drama: Fashion from 1790 to 1850 features clothing from National Museums Liverpool's collection.
Curator Pauline Rushton said: "There are not that many examples of this kind of dress in costumes collections, we're very lucky that we have got a good selection in Liverpool."
The exhibition is at Sudley House until May 2012.
Rising middle classes
Liverpool's wealth during the 19th Century meant there were many merchant families living in the city who were part of the growing middle classes.
"We cover the period from 1790 to 1850 so it's about a 60 year span and during that time there were a lot of changes in costume in terms of the the style, as you would expect," Pauline Rushton said.
"There were political changes going on, economic changes and many social changes where people were rising through the social levels and fashion was filtering down for the first time."
National Museums Liverpool has a collection of thousands of items of clothing, and those from the 19th Century have been used for research by television production companies making costume dramas.
"Most of these garments were donated to us over many years, most in the 1950s and 1960s in particular," Ms Rushton said.
"There's a variety of colours, some of them are more vibrant than you would expect because at this period they are still using natural dye, but even so they could achieve these very bright colours. It was possible to get very vibrant, striking colours even with natural dyes.
Liverpool's 19th Century position as one of the world's busiest ports, and the wealth that came with that means the museum has a sizeable collection of clothes from the wealthy families who lived in the city.
"We were a very rich city in the 19th Century, increasing decade on decade.
"The rising middle classes from the 1830s onwards were wanting to make a statement about themselves as a group, wanting to show off their wealth through what their wives and daughters wore in particular."
"We do have a fantastic collection of clothes connected to merchant families, stockbrokers and cotton traders so we can represent those people very well.
Slave trade link
"Liverpool, certainly by the 1890s, had more millionaires than anywhere else but London."
Many of the items were acquired decades ago, and often with few details of who they belonged to but for some items the museum has been able to piece together the story of the family who owned them.
One of the dresses in the collection is linked to the slave trade that much of Liverpool's wealth was originally built from.
"It probably belonged to the daughter of a Liverpool sea captain called James Goode who was a slave ship captain," Ms Rushton explained.
"We know a little bit about his family, we don't know the name of his daughter who probably wore this in the 1820s but he certainly sailed in a number of sailing voyages between Liverpool, Angola and Trinidad.
"It's interesting that we have a relic of a family directly involved in the slave trade in Liverpool at the time."
She added: "What we don't have, which is true of most museums, are the working clothes that people wore more generally because they weren't considered the kind of thing you should collect.
"They very often were recycled so they don't survive anyway."
An obsession with celebrity and fashion was just as prevalent in the 19th Century.
"You get lots of commentary in newspapers and cartoons of people wearing the wrong clothes in particular servants," Ms Rushton said.
"If servants were wearing clothes that were cast offs from their masters and mistresses, and they were out of fashion, the commentators poked fun at them for being above their social station in particular.
"So very much like ourselves today - we can read people through our clothes."