Baroness Newlove tackles underage drinking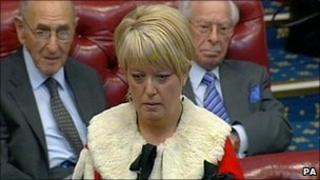 The widow of a man who was murdered by youths he challenged outside their Warrington home is to lead a scheme that tackles underage drinking.
The government's communities advisor Baroness Newlove has been appointed to lead 35 Community Alcohol Partnerships.
They bring retailers, trading standards and police together to tackle underage drinking and anti-social behaviour.
Garry Newlove died in 2007, three days after he was attacked by a gang who had been vandalising his car.
He had spent months trying to stop the troublemaking youths from vandalising his neighbourhood before the attack took place.
Three teenagers were jailed for life in January 2008 for his murder.
Binge drinking
Since Mr Newlove's death, his widow Helen has campaigned against drink-related violence and she was made a peer by Prime Minister David Cameron in July 2010.
There are 35 Community Alcohol Partnerships around the UK, and they have been endorsed by the Home Office for several years.
The largest of those is in Kent, where volunteers staff a double decker bus which provides night-time support on alcohol and drug-related issues.
It also helps relieve pressure on local ambulance and A&E services.