Homecoming honour for Wirral TA soldiers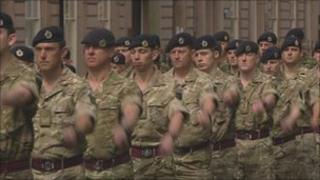 Territorial Army volunteers who have returned from Afghanistan have been honoured in Wirral.
Soldiers from 75 Engineer Regiment marched around Birkenhead's Hamilton Square after completing a six-month tour of duty.
Part of 107 Field Squadron, 16 members of the regiment were presented with medals to mark their completion of service in Afghanistan.
The volunteers had been supporting the Royal Engineers.
Lt Col Alastair Vitch said the soldiers had been involved in tasks that would benefit people in Afghanistan.
He said: "They have been assisting with road construction which will help the local population as well as constructing forward operating bases which the military can then operate from.
"They have carried out some pretty interesting tasks in the local Afghan community, helping schools and schoolchildren to get set up and to start to deliver education."
The volunteers were given a reception by the mayor of Birkenhead at the town hall following the medal ceremony.