Wirral Festival of Firsts opens in Hoylake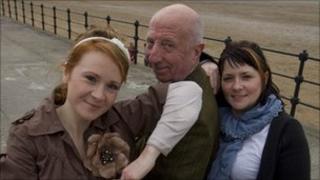 A weekend of art, poetry and music events is under way in Wirral, Merseyside.
The Wirral Festival of Firsts is being staged in Hoylake from 8 to 10 July and in Oxton from 15 to 17 July.
Organiser John Gorman, a former children's television presenter and musician has organised a team of 500 volunteers to deliver the event.
Live performances and exhibitions are being staged at venues including pubs and church halls across the towns.
Profit from the festival will be donated to Claire House children's hospice in Bebington said Mr Gorman, who found fame with Tiswas and his 60s band Scaffold, which recorded Lily the Pink.