Hannah Whelan retains British gymnastics title at Echo Arena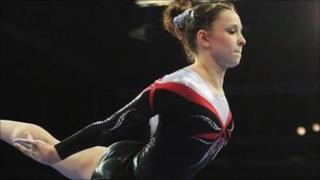 Liverpool gymnast Hannah Whelan has won the British all-around women's gymnastics title for the second time in front of her home crowd.
Whelan, 19, finished three marks ahead of nearest rival Danusia Francis, who fell on the beam at the competition at the Echo Arena.
Liverpool team-mate Jenni Pinches took the bronze medal.
Whelan scored 14.750 on the beam and 14.600 on the floor, finishing with an overall score of 56.350.
She said: "The atmosphere was really great in the arena and everybody was cheering each other on.
"To be crowned British Champion again is a huge honour for me, especially in Liverpool with such great support."
Rebecca Tunney, another City of Liverpool gymnast, claimed the junior title.
The club is also responsible for producing triple world gymnastics champion Beth Tweddle.