Victoria Park revamp gets £3m Heritage Lottery grant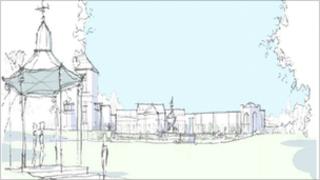 A Merseyside park is to receive a £3m makeover courtesy of the Heritage Lottery Fund.
The money will be used to preserve the historic gates and the grade two listed lodge at Victoria Park in St Helens.
Its pond will be restored and some money will create a new garden, bowling green and two tennis courts.
The park, on the outskirts of the town centre, was once a private house and garden before being sold to the local council.
St Helens Council's cabinet member for environmental protection Alison Bacon said: "This is wonderful news, Victoria Park is a local institution.
"Everyone is looking forward to seeing the park restored to its former glory."
Situated on the outskirts of St Helens town centre, the park was originally a private house and garden, which was sold to St Helens Corporation which opened it in 1886 as the town's second public park.
It was renamed Victoria Park for Queen Victoria's Golden Jubilee in 1887.
The restoration scheme led by St Helens Council was developed with Age UK Mid Mersey, which is based in the Mansion House at the heart of the park.
As part of the works both the walled garden and the adjoining orangery will be fully restored and opened for the public to once more enjoy.