Comedian John Bishop talks of his Liverpool influences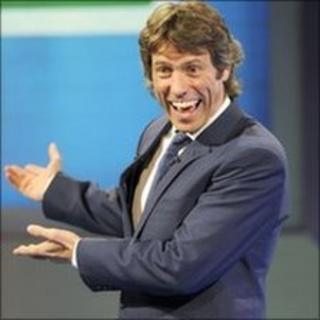 Comedian John Bishop has said that his Liverpool upbringing has helped to keep him grounded.
The stand-up said his comedy was based on his experiences of living on Merseyside.
"You can't pretend you're not part of the world that you come from," he said.
"It is brilliant, but I think it is such a fickle industry that coming into it later in life means that I can accept it for what it is."
In a recent show at the Liverpool Arena, he was reminded that he was back home when one of his relatives approached him during his act.
Punch line
"I was in the Echo Arena and anyone who was there that night will know," he said.
"I was right in the middle of a story and leading to a punch line and then I just heard 'John John' and I just looked around.
"I could see someone in the shadows walking forward and he said 'John I can't find me seat lad, d'ya know where me seat is?'.
"I looked at him and it was my uncle Dave.
"I said 'Dave I'm at work, I dunno where your seat is do I?' and then I just heard another voice say, "it's alright John' and then my aunty Carol said 'Dave we're here'.
"It was one of those moments that was funny and it was brilliant, but also I think it is where you're from isn't it?
"At that point you can't pretend you're not part of the world that you come from."
Mr Bishop performed his first comedy act in 2000 and said that starting comedy later in life meant that he had more to say.
"I started at 34 and I didn't go full time until I was 40," he said. "When I say started, I mean the first time I went on stage.
"Having more to talk about helps and the whole family things help. When you're 18, you might think that you're interesting. You're not, you're boring.
"I left my job when I was 40 and I've now being doing it full time for four and a half years."
The comedian returns to BBC One on 30 July for the second series of John Bishop's Britain.