Arrowe Park Hospital consultants in no-confidence vote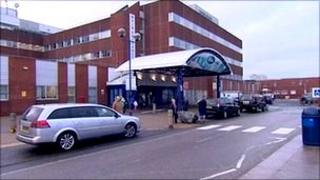 Consultants at Arrowe Park Hospital have passed a vote of no confidence in their chief executive and management.
Two hundred senior doctors voted in the ballot at the Wirral hospital earlier.
A significant majority said they had lost confidence in chief executive Len Richards and expressed concern over management's grasp of medical needs.
Consultants are concerned with a number of recent decisions, including plans to relocate vascular surgery from the hospital to Chester.
The first agreed motion asked if they had lost confidence in Mr Richards and if they felt their relationship with him had irretrievably broken down.
The second motion, also agreed, expressed concern over the management's understanding of clinical needs at the hospital.
'Reach a resolution'
The third motion criticised the plans to move vascular surgery from Arrowe Park to the Countess of Chester Hospital.
A joint statement on behalf of Wirral University Teaching Hospital NHS Foundation Trust, the hospital's medical board and the British Medical Association (BMA) said: "Following feedback received from the consultant body, the trust's board of directors is working together with the medical board to identify how best to achieve a positive resolution to the concerns expressed.
"We are confident that we will reach a resolution that is in the best interests of the trust and the patients it serves."
Several Wirral MPs had previously written to hospital management over the plans to relocate vascular surgery.
Labour MPs Frank Field, Angela Eagle and Alison McGovern and Conservative MP Esther McVey, who represent the four Wirral constituencies, claimed the move would cost the NHS extra money and take services further away from people who need them.
Surgeons performed 326 major vascular operations at Arrowe Park in 2010.