Liver Bird designer Carl Bartels' honour 'rights a wrong'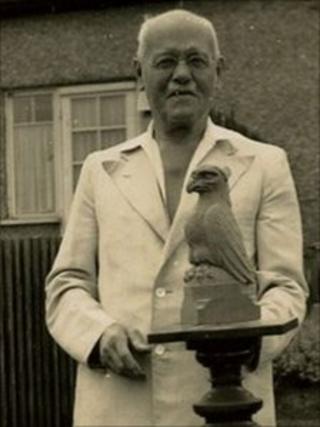 The great grandson of the man who designed the Liverpool Liver Bird said a posthumous honour for his ancestor was "a wrong put right".
Tim Olden received the Citizen of Honour Award on behalf of Carl Bernard Bartels at a ceremony.
Bartels won a competition to create the sculptures for the Liverpool Royal Liver Building, which opened in 1911.
The honour was made on the building's 100th anniversary, more than 50 years after the German sculptor died.
Mr Olden received the award at a ceremony at Liverpool Town Hall on Tuesday, following Mr Bartels' death in 1955.
"It's a fantastic thing to do and its only right that something should be done," Mr Olden said.
"It's late, it would have been great if it has been in his lifetime, but it is a wrong put right."
The city council has accepted Bartels' contribution to Liverpool went unrecognised because of the fact he was German.
The onset of World War I and the sinking of the RMS Lusitania by a German u-boat on its way to Liverpool in 1915, led to a lot of anger directed at German people.
"He had a tough time and of course his legacy was wiped out of the history books," Mr Olden explained.
"There was a great xenophobia about the Germans once the Lusitania was sunk.
"He came over here when he was 21 in 1887 and he lived here for 27 years, the majority of his working life building up a business.
"He won the competition to do the Liver birds and then he was interned in a Prisoner of War Camp for being German."
Bartels was forcibly removed from his London home ahead of the World War I and taken to an internment camp on the Isle of Man before being repatriated to Germany.
His plans and blueprints for the Liver Birds were destroyed during World War II after Liverpool was heavily bombed by Germany.