Rimrose Park given 999 colour codes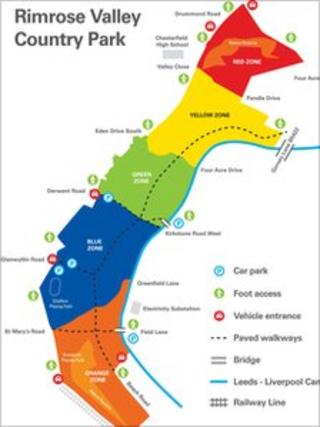 One of Merseyside's largest green spaces is being colour-coded to help people making a 999 call.
Young people are helping divide Rimrose Valley Country Park, between Crosby and Litherland, into five coloured zones.
Students from three schools as well as participants from the Prince's Trust will be painting wooden posts and maps.
Police and other emergency services hope these will help people describe their location in the park if there is an emergency.
The move was prompted after a number of people have required 999 assistance but have been unable to pinpoint their location in the 3.5km-long park.
Insp Simon Thompson said: "If somebody requires help and calls the emergency service from within the park they just need to tell us which coloured zone they are in and we can make sure that we send the resources to the right part of the park to ensure as quick a response as possible."
The colour coding system will also be used by Mersey Fire and Rescue, the Ambulance Service, the Coast and Countryside Service, and Sefton Council's park rangers.