Knowsley Council in Huyton floods support pledge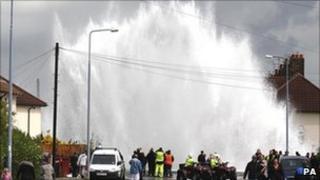 A council has promised its full backing to people affected by a burst water main in Merseyside.
Up to 200 homes and businesses around Lincombe Road and Liverpool Road in Huyton were damaged by floodwater when the pipe burst on Monday.
It led to Knowsley MP George Howarth saying United Utilities was "unfit" to oversee North West water supplies.
Knowsley Council said lessons had been learned and people should get the financial help they need straight away.
The council's support ranges from helping people clean up after the flooding to cashing cheques from United Utilities in the council's one-stop shops
Ken Harrison from the council said: "Some residents have received an initial payment and those are being processed.
"Once the loss adjusters have been in and made the initial assessments, we are talking with United Utilities about making further interim payments.
'Goodwill' payments
"Where last time, people had to wait until everything was finalised, I think lessons were learned from the previous floods and we're putting things in place now that weren't in place last time."
The burst on Lincombe Road caused a 40ft (12m) plume of water to shoot up into the air.
United Utilities carried out a £7m water main refurbishment in the area in 2009.
Robert Gray is one of the residents affected by the floods.
He said: "Really I need to know where I stand, I'm waiting to hear whether my new floor's going down, is my path going to get cleared, what repairs are going to get done.
"Luckily enough they've actually got the water back on for us, but everything else is just up the air, nobody's telling us nothing."
A spokesman for United Utililties said: "We are making goodwill payments to every resident who has been flooded.
"We have handed out a lot of these cheques already and we will make sure we reach everyone affected."