Many TJ Hughes shops 'may close', says liquidator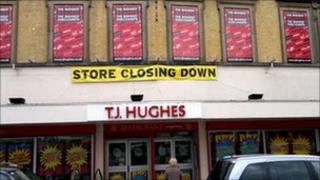 Liquidators have warned that a number of TJ Hughes stores may close for good.
GA Europe, which is overseeing clearance sales at 56 of the Liverpool-based chain's stores, said a "significant number" of shops could shut.
Administrators Ernst and Young have spoken to 30 potential buyers and still hope one can be found for all of the stores.
GA Europe bought the troubled chain's £10m debt last week.
A statement on its website reads: "Joint administrators Tom Jack and Simon Allport of Ernst & Young have previously stated their hopes that a buyer or buyers can be found for at least a part of the business.
"Those efforts are continuing. However, in view of the group's trading history, it is probable that a significant number of the stores will have to close."
The chain went into administration on 30 June after it suffered from a loss in "credit insurer confidence".
The home wares, menswear and beauty retailer was founded in Liverpool in 1912 by Thomas Hughes.