Aintree hosts first show jumping event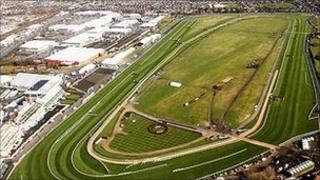 Aintree Racecourse is to host a horse showing and show jumping competition for the first time.
Over 1,000 competitors and horses are expected to take part in 280 classes at the outdoor show on Saturday and Sunday.
Competitions will take place in six rings in the centre of the track and includes events for retired racehorses.
The course, which hosts the annual Grand National, does not stage race meetings during the summer.
Aintree Racecourse marketing manager Emma Owen said: "It's going to be fantastic to see so many re-trained racehorses that have gone on to do great things since retirement and Aintree is very pleased to be supporting this class.
"We hope the public get behind this event and enjoy this rare spectacle."
'Special place'
The free event also includes events and classes for younger riders and two Cheshire sisters will be competing for the first time together at Aintree.
Lola and Tilly Caddick, aged five and eight, from Warrington, will both take part in the pony showing event.
Their mum Rachel Caddick, originally from Liverpool, said she had explained the significance of Aintree to the girls.
"Aintree racecourse has a special place in Liverpool people's hearts," she said.
"It is such a famous racecourse what with the Grand National and I've told the girls all about it. They know how lucky they are to be able to ride there.
"Equestrian is a big part of our family life. You start very young, the girls where just two when they started."
The sisters practise three times a week at a stables on Merseyside with their trainer, Mark Reeves.
"The girls are really excited about taking part," he said. "They hope to go on to do more competitions like this and it's great that Aintree have started this event."
"It is a great starting discipline for people that go on to show jumping, dressage and eventing.
"Lola wants to do show jumping and Tilly wants to progress into dressage and so I think they'll end up splitting off doing their own things."